Hampden Gurney are proud to work with the following charities to raise awareness and hold fundraising events within the school.
Our Local Charity- Marylebone Project
Marylebone project was set up by the Church Army and The Portman House Trust, they provide long and short term beds to homeless women and offer essential facilities. The Marylebone Centre also delivers education, employment and training opportunities and meaningful activities in order to support service users into independent living.
Their value of spirituality is symbiotic with our own values as a school, to live full lives because God loves us all unconditionally.
If you would like to find out more about this charity, please take a look at their website https://www.maryleboneproject.org.uk
Our National Charity- Imperial Charity St Mary's Children's Fund
Children from across the UK, thousands of seriously ill children are treated at St Mary's. The charity aims to transform the hospital environment to make sure St Mary's is welcoming and comfortable for children and families. At the same time, they are continuing to ensure every paediatric department is equipped to continue delivering the best possible care.
This charity holds a special place in the heart of our school. Many of our children were born at this hospital and we are proud to serve them as part of our community by raising funds for the children's wards.
If you would like to find out more about this charity, please take a look at their website https://www.imperialcharity.org.uk/
Our Global Charity- Goodwill Children's Homes
Goodwill has been supporting the care and education of destitute and orphaned children in southern India since 1976. Most Goodwill children come from the tribal communities living in the mountain ranges of the Palani Hills. They look after children who have either been orphaned or come from families that are simply too poor to provide essential shelter, food, and education. Goodwill is able to provide them with a loving home and the life chances that their families cannot.
At Hampden Gurney, we are incredibly fortunate to have the opportunities we do. Not only in a safe and happy school community, but also in the enrichment available to us by our location. Through working with Goodwill Children's Homes, we are showing a number of our values and reflecting on how thankful we are. With our charity ambassadors and the help of everyone in our school community, we hope to make a difference and help towards providing the children in India with education, love and care.
If you would like to find out more about this charity, please take a look at their website https://www.goodwillhomes.org.uk
The Penfold Community Hub
Penfold Community Hub is a group within Westminster that offer stimulating and accessible activities to members of the commuity over 50. Their aim is to help people remain healthy, independent and active within their local community.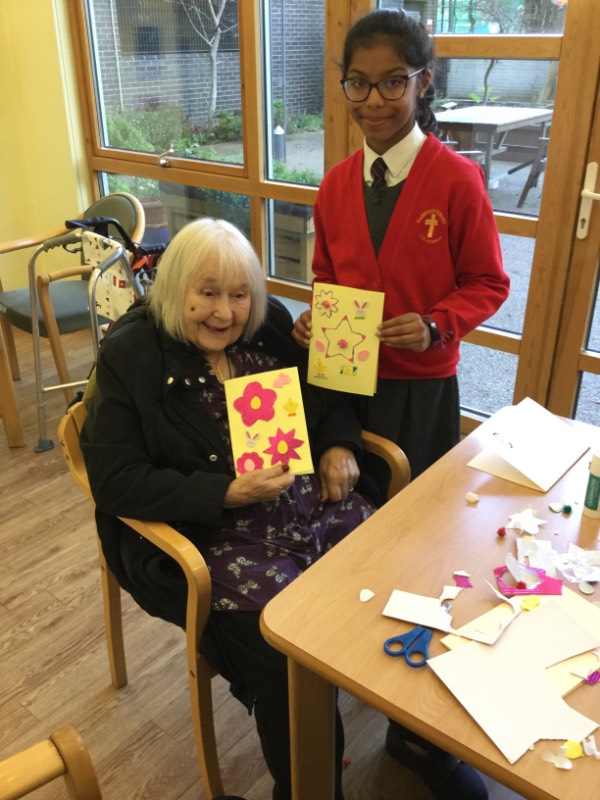 The school council group of children paid their monthly visit to the Penfold Community Hub under supervision of Mrs Kennedy last Tuesday in January 2020.
This is an on going initiative where children volunteer an hour of their time to do different activities with the elderly and will be happening every month at the hub.
We would like to offer this volunteering opportunity to all from Year 3 to Years 6.
Here is what some of our pupils had to say about the experience:
On Tuesday 28th January, the School Council went to 60 Penfold Care Centre. We went to visit and make cards for the elderly people who live there to make cards for them or for them to give the cards to a relative.
When we arrived, I was quite nervous and anxious about what we were going to see, but as the afternoon passed by, they were really quite enjoyable and friendly. We met someone called John, Patricia, Rosalina and Julie. Mrs. Kennedy and Miss Charlotte came along on the trip too.
If you want to join in next time, you should ask the school council.
Zara North Year 4 (School Council Member)*
On 28 January, we went to 60 Penfold Street to a care home. At the care home, we made cards for the elderly, or they made cards to give to their families. I felt happy because we made cards and the elderly people really loved them.
Nicholas Y2*
~~~~~~~~~~~~~~~~~~~~~~~~~~~~~~~~~~~~~~~~~~~~~~~~~~~~~~~~~~~~~~~~~~~
School Orchestra visiting the Hub in July 2019
At Hampden Gurney, we have had the absolute pleasure of taking along our school orchestra to play for the members of the Penfold Community Hub. Below you can read what two of our pupils had to say about the experience.
Sophia -

In school, we have an ensemble comprised of students playing an instrument. We play the clarinet, flute, guitar, hand chimes, violins and viola. We work extremely hard to put together a repertoire of pieces ranging from theatre piece s to famous classical pieces, for example; Ode to Joy and Joseph and the Technicoloured dream coat. Once we have learnt these pieces, we performed them for an elderly home called Penfold Hub. The elderly people really enjoyed out performance and we felt we had contributed to the community.
Lily -

The ensemble worked extremely hard to prepare for a performance in front of both parents and pupils. As part of our outreach project, we decided to show case our talent and share our music with an older crowd. We performed a variety of songs, ranging from lullabies to theatre songs, which everyone thoroughly enjoyed. Some of these included Over the Rainbow and Serenade and the audience clapped and sung along with out. We enjoyed putting on the performance and would love to return.
If you would like to find out more about this community group, please take a look at their website https://www.nhhg.org.uk/penfold/